Apartment for temporary rentals and others

Added on May 30 2020

Don't forget to mention that you saw this ad on
more Montreal apartments
. Thank you.
Furniture
All furnished (see detailed desc.)
Included in rent
Heating included, Internet included
Description of the apartment
Neighborhood :Downtown SouthWest Subway : Jolicoeur (700m) Bedroom(s) :2  Surface : 1000 sf - 93 sm Floor : 02 Sleeps :4 # of rooms :4Monthly Rental OnlyCharming upper duplex located in a residential and quiet area. Completely equipped, this apartment offers the quiet of the suburbs near the city. it offers two beautiful bedrooms, a living room, a kitchen and an impeccable bathroom.NEARBY POINTS OF INTERESTArgyle AcademyCoeur-Immaculé-de-Marie SchoolCentre St-RaphaëlDe-la-Vérendrye Park

Amenities: Electricity, Heating, Fully equipped kitchen, Fridge, Stove, Microwave, Towels, bedding, linens, Wi-Fi, Outdoor space, Washer & dryer.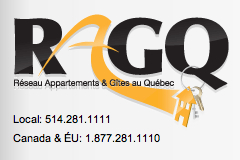 Phone number (day/work)
514-281-1111, 1-833-281-1110
Phone number (evening/weekend)
514-281-1111, 1-833-281-1110
Galerie de photos pour le logement no. 167240

If you are not familiar with apartments in the greater Montreal area or if you are from abroad,
please read these comments
(subject : leases, neighborhoods, rent, etc).