for temporary rentals and others in Rosemont, Petite-Patrie

Added on Dec 3 2023

Don't forget to mention that you saw this ad on
more Montreal apartments
. Thank you.
Monthly rent
From $2184 ($546 per week)
Furniture
All furnished (see detailed desc.)
Description of the apartment
Roomy and beautiful furnished apartment in the popular area of Petite-Italie. This unit includes bedroom, with Queen size bed, a large kitchen, a living room, an office area, a bathroom, washer/dryer and access to a large outdoor space. You will find all that you need nearby to live or work comfortably at home. Monthly rentals only. This unit is close to the subway station, parks, restaurant, grocery and convenience stores, outdoor and cultural activities and more. Points of interests in the areaSubwayRestaurantsGroceries and drug storesOutdoor and cultural activities Monthly rentals (minimum 1 month). RAGQ must confirm unit availability with the owner. Rates vary based on factors such as the timing and duration of your stay, the number of guests and the rental market (supply and demand). This unit is provided by RAGQ – operating under the name "Agence de voyages RAGQ pour RAGQ Location et reservation de services d'hébergement". RAGQ is one of the largest providers of furnished apartments in Quebec. RAGQ holds a travel agency licence from l'Office de la Protection du Consommateur du Québec – a government agency – to protect 100% of your rental deposit. Access to full apartment. When you arrive, drop by RAGQ's offices and you will be provided with what is required to access the premises. You must return the access devices at the end of the rental period. You are responsible for the access devices and fees will apply if you lose, break, damage or do not return the keys/fobs/access devices when you check-out. RAGQ will provide you with the information that you need to access the unit, an inventory of the unit's content and any other relevant information. Métro Jean-Talon (ligne bleue et ligne orange) Close to subway (métro) and buses.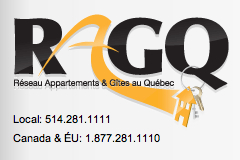 Phone number (day/work)
514-281-1111, 1-833-281-1110
Phone number (evening/weekend)
514-281-1111, 1-833-281-1110
New!
To activate "StreetView", drag and drop the orange "PegMan" on the map.

If you are not familiar with apartments in the greater Montreal area or if you are from abroad,
please read these comments
(subject : leases, neighborhoods, rent, etc).