Apartment for temporary rentals and others in Notre-Dame-de-Grace (NDG)

Added on Dec 7 2023

Don't forget to mention that you saw this ad on
more Montreal apartments
. Thank you.
Monthly rent
From $2660 ($665 per week)
Furniture
All furnished (see detailed desc.)
Description of the apartment
Roomy renovated apartment with a great layout. The unit includes a gourmet kitchen, an open concept dining room and living room, two large bedrooms with storage, air conditioning, washer/dryer and access to roof terrace. This beautiful apartment includes parking and is close to amenities such as grocery stores, convenience stores, restaurants, parks and outdoor activities. Monthly rentals only. Points of interests in the areaMarymount AcademyVilla-Maria SchoolNotre-Dame-de-Grâce SchoolMaison mère de la Congrégation de Notre-Dame Beautiful spacious and renovated apartment offering a large living space open concept, two large bedrooms with storage and an impeccable bathroom. Close to amenities, grocery stores, convenience stores, bars and restaurants When you arrive, drop by RAGQ's offices and you will be provided with what is required to access the premises. You must return the access devices at the end of the rental period. You are responsible for the access devices and fees will apply if you lose, break, damage or do not return the keys/fobs/access devices when you check-out RAGQ will provide you with the information that you need to access the unit, an inventory of the unit's content and any other relevant information. Métro Villa-Maria (ligne orange) Subway : Villa-Maria (walking distance: 5 minutes) Nearby points of interest • Marymount Academy • Villa-Maria School • Notre-Dame-de-Grâce School • Maison mère de la Congrégation de Notre-Dame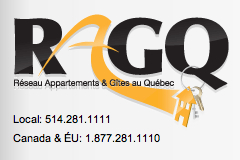 Phone number (day/work)
514-281-1111, 1-833-281-1110
Phone number (evening/weekend)
514-281-1111, 1-833-281-1110
New!
To activate "StreetView", drag and drop the orange "PegMan" on the map.

If you are not familiar with apartments in the greater Montreal area or if you are from abroad,
please read these comments
(subject : leases, neighborhoods, rent, etc).