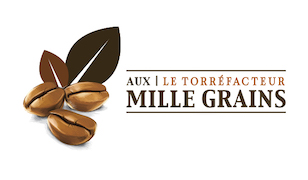 Since 1996,
Torréfacteur Aux Mille Grains
roasts quality coffees in house providing to our customers the opportunity to discover different grains from around the world.
Selecting and roasting different speciality coffee ourselves is what we love. We select grains among the best in the world. Our desire is to provide our customers a selection of gourmet coffees that are cultivated responsibly.
A large number of our coffees certified by the Rainforest Alliance, this organization certifies that our grain coffees are cultivated and produced according to sustainable development regulations. We also carefully select decaffeinated coffees produced the right way : using water without the use of chemicals. We are proud to offer Organic and FairTrade coffees.
Have a good coffee time!