Category
Description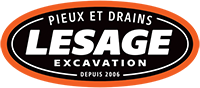 Lesage Excavation
Company specializing in foundation piling and french drain replacement.
Call us at 514-219-0125
get a quote online
Keywords
Réparation de fissures, réparation fondations, fissure, spécialiste fondation, infiltration d'eau, pieutage, maison lézardée, drain francais, pieux de fondation.
Web sites
Other internet locations (social networks, etc)
Map
Reviews and comments
No reviews or comments for the moment
New!
Add your opinion
Share this listing's page...
Actions for this listing...
• Fix a mistake in this listing
• Request a modification for this listing