Apartment for temporary rentals and others in Quebec city

Added on May 25 2023

Don't forget to mention that you saw this ad on
more Montreal apartments
. Thank you.
Furniture
All furnished (see detailed desc.)
Included in rent
Heating included, Internet included, Parking included
Description of the apartment
Reference # 639
Neighborhood: St-Nicolas-de-Lévis
Bedroom (s): 2
Capacity: 4 person(s)
Minimum one month rental. Longer stays will be billed proportionately.
Chalet for all 4 seasons, 2 bedrooms, on the banks of the St-Laurent river, with large lot and private in-ground pool. Get away from the worries and the viruses and appreciate the splendid sunsets every night with the calmness of the water right in front of you.
Lots of wooden features inside the home will reconnect you to nature and bring you inner peace. With generous windows facing the river you will be zen just living here. Fully equipped and completely functional, you even have air conditioning in summer and a gentle heat from the heat pump in the winter.
Live a natural experience with the artesian well and private access road (with remote parking during the winter because the road is not passable all the way to the house).
To really relax and decompress, you have come to the right place. With unlimited high-speed Internet access, of course.

Amenities: Electricity, Heating, Fully equipped kitchen, Fridge, Stove, Microwave, Towels, bedding, linens, Wi-Fi, Access to pool, Outdoor space, Pet considered (fee applicable / varies by unit), Air conditioning, Parking included, Washer & dryer, Cable TV, Free Parking on Street.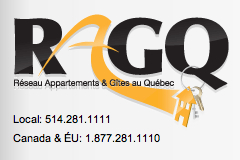 Phone number (day/work)
514-281-1111, 1-833-281-1110
Phone number (evening/weekend)
514-281-1111, 1-833-281-1110
Galerie de photos pour le logement no. 179294

If you are not familiar with apartments in the greater Montreal area or if you are from abroad,
please read these comments
(subject : leases, neighborhoods, rent, etc).