Apartment for temporary rentals and others in Quebec city

Added on Sep 4 2023

Don't forget to mention that you saw this ad on
more Montreal apartments
. Thank you.
Furniture
All furnished (see detailed desc.)
Included in rent
Heating included, Internet included
Description of the apartment
Neighborhood : Vieux-Lévis Bedrooms : 3+1 Bathrooms : 1 Capacity : 8 person(s) Number of rooms : 6 1/2
Minimum stay one month. Portions of additional months are billed pro-rata.
Apartment located on ground floor of ancestral home with all the cachet of days gone by combined with current updates. Nine-and-a-half-foot ceilings, hardwood floors, kitchen with garden access (grassy backyard) and an incomparable view of the river. Airy, well-decorated, and comfortable. The unit faces the St-Laurence River. Capable of hosting up to 8 individuals thanks to a murphy bed in the living room, you will be comfortably settled and in stylish decor with a fireplace (non-functional) off the living and dining rooms.  With 6 guests the cost per person is very low, so imagine with 8... You will feel guilty paying so little for this level of quality. Located in Vieux-Lévis, near cafés, restaurants, and tasteful boutiques, you will in addition have an impressive view of Québec, the Château Frontenac, and the Montmorency falls fireworks. You will have, for your exclusive use, a big apartment like they don't make anymore and with a unique style that will make all your friends jealous. Use of private garage possible if available, for an additional fee. By car, bus, or ferry, you are just minutes away from all of Lévis and Québec. Live in the suburbs without going far. You will live in a charming Victorian home located just in front of the St-Laurence River. The neighborhood is family-oriented and has lots of mature trees. This comfortable, furnished apartment offers a great view of Vieux-Québec. Note that all of the furniture will be renewed July 1, 2021.  
In the area and nearby
Hôtel Dieu de Lévis (hospital)
Collège de Lévis (Cégep)
Linear park along the river
Commercial district with restaurants, groceries, pharmacies, and other businesses.

Amenities: Electricity, Heating, Fully equipped kitchen, Fridge, Stove, Microwave, Towels, bedding, linens, Wi-Fi, Outdoor space, Pet allowed (restrictions may apply), Washer & dryer, Cable TV, Dishwasher, Free Parking on Street.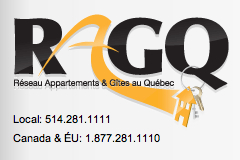 NOT AVAILABLE ANYMORE
a 4 1/2 in Quebec city ? Here are five other similar apartments...
Galerie de photos pour le logement no. 179295
New!
To activate "StreetView", drag and drop the orange "PegMan" on the map.

If you are not familiar with apartments in the greater Montreal area or if you are from abroad,
please read these comments
(subject : leases, neighborhoods, rent, etc).