Sponsors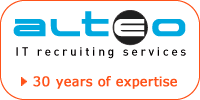 Alteo IT Recruiting Services
Recruitment agency specialized in IT based in Montreal. With more than 30 years of cumulated experience, our team of recruiters and headhunters has the expertise to meet the highest expectations. Thoroughness, discretion and confidentiality are at the core of our approach. To employers, we offer a full range of IT staffing solutions: recruitment of permanent IT professionals, staffing of IT consultants, head hunting. We also help our candidates achieve their personal career goals. What motivates us above all is to find the perfect fit between our clients' needs and our candidates' aspirations.

See Alteo's complete listing
Be amongst the first ones listed here,
click here for more information
300x250 en autre
Copyright © 1996-2022 toutMontreal.com enr.