Sponsors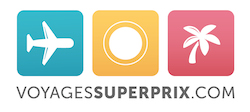 The best travel agency online. Book your last minute vacations, our specials on flights, cruises, Club Med, all inclusive vacations package, hotels, car rental, package in New York from Montreal. Discount travel, vacations deals in amazing resorts. Call us directly or book online at
www.voyagessuperprix.com
!

See voyagessuperprix.com's complete listing
Wonder Travel
, "bus tour to Toronto & Niagara Falls, New York, Quebec and so on. Always lower price better quality. try it to now?"
Adresse: 1242 Rue Stanley (Suite 202) Montreal, Qc . Tél.: 514-8718688

See Wonder Travel's complete listing
Region:

Island of Montreal

Be amongst the first ones listed here, click here for more information
300x250 en cetm
Copyright © 1996-2023 toutMontreal.com enr.